Craig Verwers, D.V.M.
Dr. Verwers' interest in veterinary medicine goes back to his freshman year at Western Hills
High School when he met a Fort Worth veterinarian and learned what a veterinarian did. He started working for that veterinarian as a kennel assistant when he was 14 years old and continued working with different veterinarians through high school and college. He received his Doctor of Veterinary Medicine from Texas A & M University College of Veterinarian Medicine.
Read more...
Dr. Verwers lives on a small farm in the Aledo area. He raises sheep and currently has chickens, a chinchilla and of course dogs and cats. Mac, an Anatolian Shepard works with Lucy, a Great Pyrenees and now little Ike to guard the homestead protecting it from all unwanted four-legged creatures like coyotes and raccoons that might hurt the sheep or chickens. He has two black Labrador brothers-Todd and Jason. There is also a German Pinscher cross named Molly, and little Susie Q who doesn't know that she is only six pounds.
Dr. Verwers' desire is to partner with you to give your pet the longest, healthiest, and happiest life possible. He enjoys sharing the latest information with pet parents on ways to make this goal possible. Important components to maintain good health are preventative lab work, good dental care, and quality nutrition as part of an overall preventative protocol. With a full in-house lab, digital x-ray, and radio and laser scalpels, he is able to do diagnostic procedures as well as many general surgeries.
In the past several years, Dr. Verwers has become an avid golfer; playing as often as three times a week whenever possible. His ongoing involvement with the Optimist and Rotary clubs is important to him because of the benefits they provide to the community and the friendships he has formed through them.
Barbara – Office Manager
Barbara has been with the practice since 2009. She started as a Kennel Assistant and enjoyed working closely with the boarding and hospitalized pets. With that experience, she moved to the front desk as a Client Care Representative and Office Manager. She is a pro at the front desk and can get the answer to most any situation that may come her way. She always has a pleasant word for pets and pet parents when they come in the door. She also is our hospice/grief counselor: something she feels a true calling for. Her ability to bring comfort to pet parents in a difficult time is truly remarkable.
Read more...
Barbara has a house full of pets. They include four dogs-Katie, a black lab; Rex, a boxer; Sophie, a Chihuahua mix, and Bridgett, a terrier mix and a handful. The gang is rounded out with kitty cats Simon, Sassy, and Ruby. Ask Barbara about Hill's CD stress diet and how it made her cats find peace with each other at her house. She was the one that converted most of the staff with cats to the CD Stress diet and what a difference it has made in everyone's' household!
Barbara enjoys meeting and greeting the pets and their parents when they enter the door of Ridglea West Animal Hospital. She is the "keeper of the treats" at the front desk. It won't take long for your pet to learn the treat routine at check out. She likes seeing how the special diets such as the CD Stress, JD and Metabolic Diets can improve pets' lives. She also appreciates how Cold Laser Therapy can give immediate relief to pets' aches and pains. She attributes her years of experiences as a mother and wife for her ability to support and assist clients through difficult decisions and situations.
When not at the animal hospital she enjoys working with the preschoolers at her church. She is very involved with Vacation Bible School each summer and loves working it so much that she schedules vacation time around it. She also enjoys getting together with the girls in her family at Painting With a Twist and creating paintings for her home.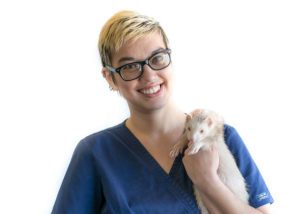 Grace, CVA
Grace began working in the veterinary field in December 2015 but grew up caring for many different types of pets and farm animals including cats, dogs, goats, rabbits, and rats. She has been diligent in her work and quickly became a Certified Veterinary Assistant (CVA)III. She is continuing her education in the distant learning program with AVMA and AAHA to earn her License Veterinary Technician (LVT). After working in the human medical side with home health care, she finds the veterinary medicine fascinating.
Read more...
Grace has three rescue-dogs: a Brittany Spaniel-Gabby, a Chihuahua-Rory and a small mix breed 'Ginger'. She has three ferrets: Archer, Saber and Nymphadora Tonks, aka. Tonks. She also has three pet rats!! On purpose! She routinely takes in small animal rescues when they need a rest home or a pit stop. She has added a flock of backyard chickens. Grace has had a lifelong love of animals and looks forward to what will be next-a rabbit perhaps? A hedgehog? Sugar glider? The world is her oyster (or pet shop).
Although Grace loves the profession as a whole, she has a special interest in exotic pet husbandry as well as surgical procedures. She is amazed at what can be done to help our pets through surgery and how we can do so much to improve our pet's lives and longevity. She loves to stay current in pet research-many afternoons are spent with coffee and research articles.
When not at the clinic, Grace loves to read, garden, host friends at her home, and spend time with her pets. Her favorite book is Jane Eyre and she loves all manner of geek-ery. She is a huge fan of Star Wars, Doctor Who, Lord of the Rings and many others. She also enjoys traveling whenever she has an opportunity. She grew up in the U.S., Jamaica and Honduras. She has traveled to Italy and has a great desire to visit India someday. Grace is also training Ginger in Agility and they both love it. They do it for fun and exercise but do not compete.
Kevyn – Professional Groomer
We welcome Kevyn on our staff as our full-time profession groomer. She has been caring for pets for over five years and has worked as a trained groomer in the profession for almost four years. Her goal is to groom your pet just the way you want by spending the time needed to find out what type of styling you desire for your pet. She has the training and skill to work with dogs of all breeds and with cats. In addition to bathing and clipping, she can dermal and paint nails and even apply the nail caps.
Read more...
Kevyn has two bearded dragons-a male called Sammie and a female named Calypto. She has a cute little girl Pug mix named Alex.
Kevyn's attitude toward grooming is to give your pet the "spa day" that they deserve. This opportunity gives her the satisfaction of a job well done.
When she is not at the "pet spa", she enjoys spending time with her children and her pets. She is a comic book buff and enjoys watching scary movies.
Kevyn is eager to visit with you about "spa day" for your pet. She is here Tuesday-Saturday. Please call 817-763-0261 and make an appointment to meet Kevyn.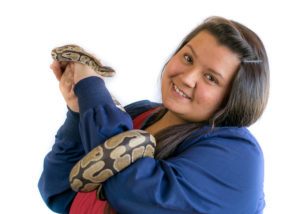 Jessica, CVA
Jessica started at Ridglea West Animal Hospital in 2013. She began as a part-time kennel assistant and has been cross-trained at the front desk and in the exam room. She earned her Certified Veterinary Assistant (CVA) and is Avimark Certified. You'll find Jessica equally at home at the front desk and in the exam room.
Read more...
Jessica's pets include an Australian Cattle Dog mix named Shadow and three parakeets-Fred, Jr., Sweetie and Peetie. She is especially fond of reptiles and has Salem, a 7.5 for Red Tailed Boa, two Leopard Geckos-Hendrix and Morrison, a Ball Python named Loki (but not Thor), a Veiled Chameleon named Samhain, and the newest member of the clan-Rosie the Rose Haired Tarantula.
She loves learning more about reptiles because she has them at home, ando because she loves sharing what she has learned with our reptile pet parents. To this end she takes classes, attends reptile expos, reads and listens to podcasts on our cold-blooded friends. Education and research on reptile health and habitat needs is in the pioneer phase but rapidly progressing as interest in pet reptiles grows.
She has a great deal of knowledge and experience on creating habitats and the dietary needs to help your reptile thrive. And she loves to talk others about it! Her passion is the prevention of Metabolic Bone Disease (MBD) and she will work closely with you to help you reverse MBD if you pet is diagnosed with the disease. Two of her lizards are rescues that were suffering from MBD bur are now fully recovered!
When not at the clinic, Jessica enjoys spending time with her pets, attending concerts with friends and spending time with her family. She is working to understand how diet and care of the insects that she feeds to her reptiles play a vital role in the health of her reptiles.